---
In our last report here on GBPUSD and EURUSD on 7th January we highlighted upside risks for the GBPUSD Forex rate and an indecisive range theme for the EURUSD currency pair.
The movement away from a potential "no deal" Brexit through January, alongside falling prospects for a General Election have been seen as positive for the Pound and with the US Dollar on the backfoot on Friday, GBPUSD has maintained a bullish technical tone into late January and likely onto into February.
The EURUSD FX rate has been extremely erratic through January and despite a recent push below a key 1.1308 level (driven by a dovish tone from the European Central Bank), the Friday rebound reinforces an i0t range theme (we see defined as 1.1268/62 to 1.1570).
GBPUSD A surging bull theme
Another surging rally after a rebound from 1.3061 new support to push above multiple resistances as high as the key swing high at 1.3175 from last November, sustaining the bull theme since the mid-January dip and rebound from the 1.2831/29 support area, to keep the bias higher into Monday.
The mid-January push up through 1.2928 set an intermediate-term bullish outlook.
For Today:
We see an upside bias for 1.3236; break here aims for 1.3258, 13277, 1.3299 and maybe towards 1.3363.
But below 1.3151 targets 1.3061 and maybe aims for 1.3010.
 Intermediate-term Outlook – Upside Risks: We see an upside risk for 1.3175.
Higher targets would be 1.3299 and 1.3473.
What Changes This? Below 2668 shifts the outlook back to neutral; through 1.2513 is needed for a bear theme.
Resistance and Support:
| | | | | |
| --- | --- | --- | --- | --- |
| 1.3236* | 1.3258* | 1.3277 | 1.3299*** | 1.3363** |
| 1.3061 | 1.3061* | 1.3010** | 1.2941** | 1.2854* |
4 Hour GBPUSD Chart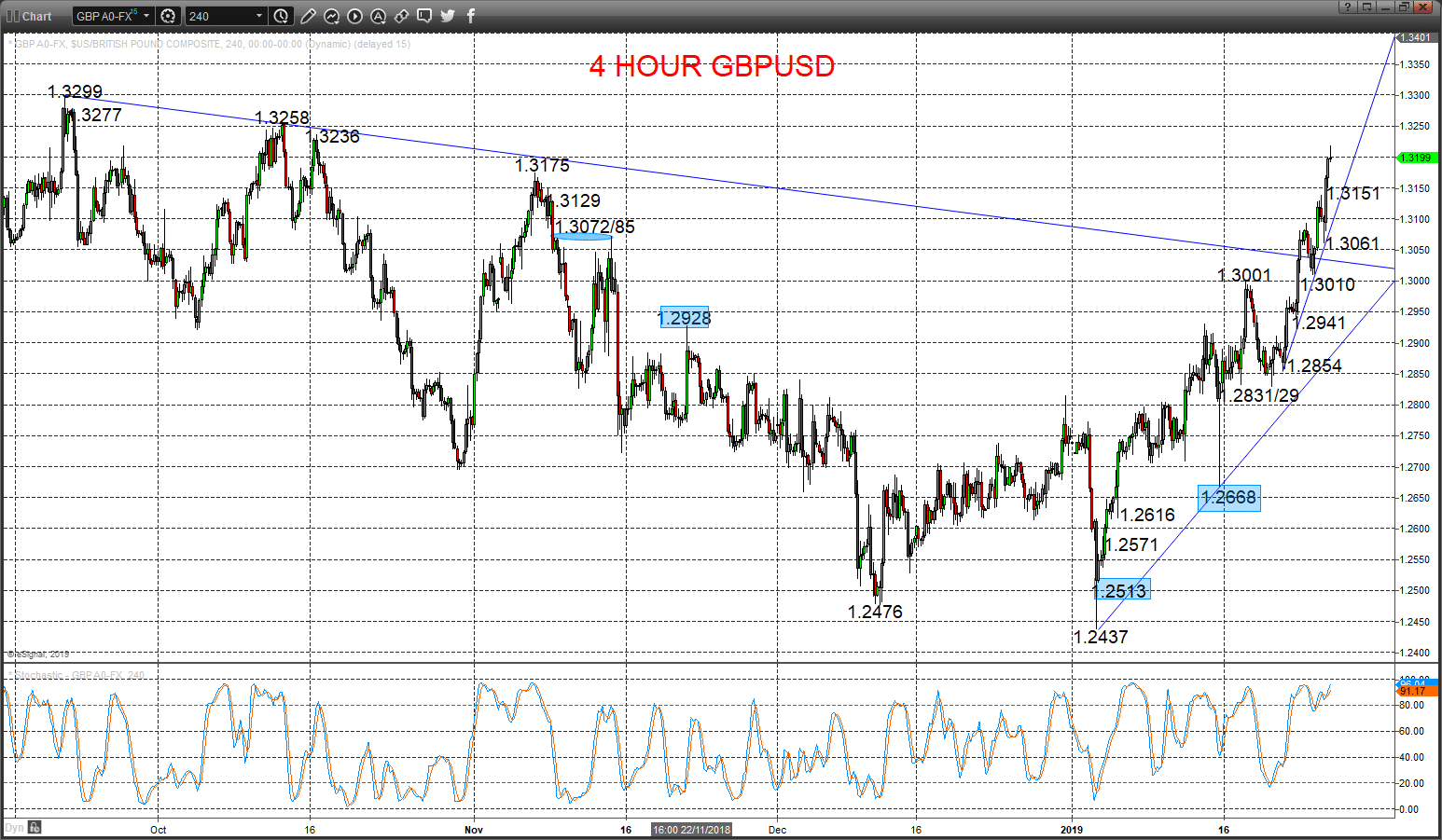 EURUSD Immediate risks back higher within the intermediate-term range
An unexpected surge back higher Friday through the notable 1.1394/1410 resistance area, for now rejecting Thursday's negative price action through the 1.1308 key swing low and flipping risks higher again for Monday.
The latter January prod below the 1.1308 level confirmed an intermediate-term range theme, seen as 1.1268/62 to 1.1570.
For Today:
We see an upside bias for 1.1418; break here aims for 1.1455, maybe for 1.1490.
But below 1.1338 opens risk down to 1.1288.
 Intermediate-term Range Breakout Parameters: Range seen as 1.1268/62 to 1.1570.
Upside Risks: Above 1.1570 sets a bull trend to aim for 1.1621, 1.1815 and 1.2000.
Downside Risks: Below 1.1268/62 sees a bear trend to target 1.1119, 1.1000 and 108.39.
Resistance and Support:
| | | | | |
| --- | --- | --- | --- | --- |
| 1.1418 | 1.1455 | 1.1490* | 1.1541/45* | 1.1570*** |
| 1.1338 | 1.1288* | 1.1268/62*** | 1.1214/00*** | 1.1172 |
4 Hour EURUSD Chart