---
We last looked at the EURUSD and GBPUSD currency pairs on 11th March and emphasised negative risks for both Forex rates.
Since then the EURUSD FX rate has seen a sharp rally and equally significant selloff, that reinforces an intermediate-term range theme, but with the very short-term threats to the downside.
For the GBPUSD Forex rate, Brexit votes in late March and again going into April continue to cloud the directional theme, but the immediate risks are lower, but we still see an intermediate-term bull theme intact whilst above 1.2967.
EURUSD Risks remain lower
Again, a Friday push lower for a probe below 1.1212/11 supports (to 1.1208) and a rebound failure from below our 1.1261 resistance (from 1.1247) reinforcing bear pressures from latter March losses through various supports, plus from the aggressive prior March selloffs down from 1.1448 and 1.1390, to keep risks lower for Monday.
The latter March surge post-Fed Meeting above 1.1420 set a broader range we see as 1.1509 to 1.1175, BUT with risks skewed towards an intermediate-term bullish shift through 1.1509.
For Today:
We see a downside bias for 1.1208; break here aims for key 1.1175 and maybe towards 1.1144.
But above 1.1247/61 aims for 1.1286/95 and maybe 1.1332/41.
 Intermediate-term Range Breakout Parameters: Range seen as 1.1509 to 1.1175.
Upside Risks: Above 1.1509 sets a bull trend to aim for 1.1570/1.1621, 1.1815/52 and 1.1996/1.2000.
Downside Risks: Below 1.1175 sees a bear trend to target 1.1119, 1.1000 and 1.0839.
Resistance and Support:
| | | | | |
| --- | --- | --- | --- | --- |
| 1.1247/61 | 1.1286/95* | 1.1332/41* | 1.1390** | 1.1448** |
| 1.1208 | 1.1175*** | 1.1144 | 1.1119** | 1.1100 |
4 Hour EURUSD Chart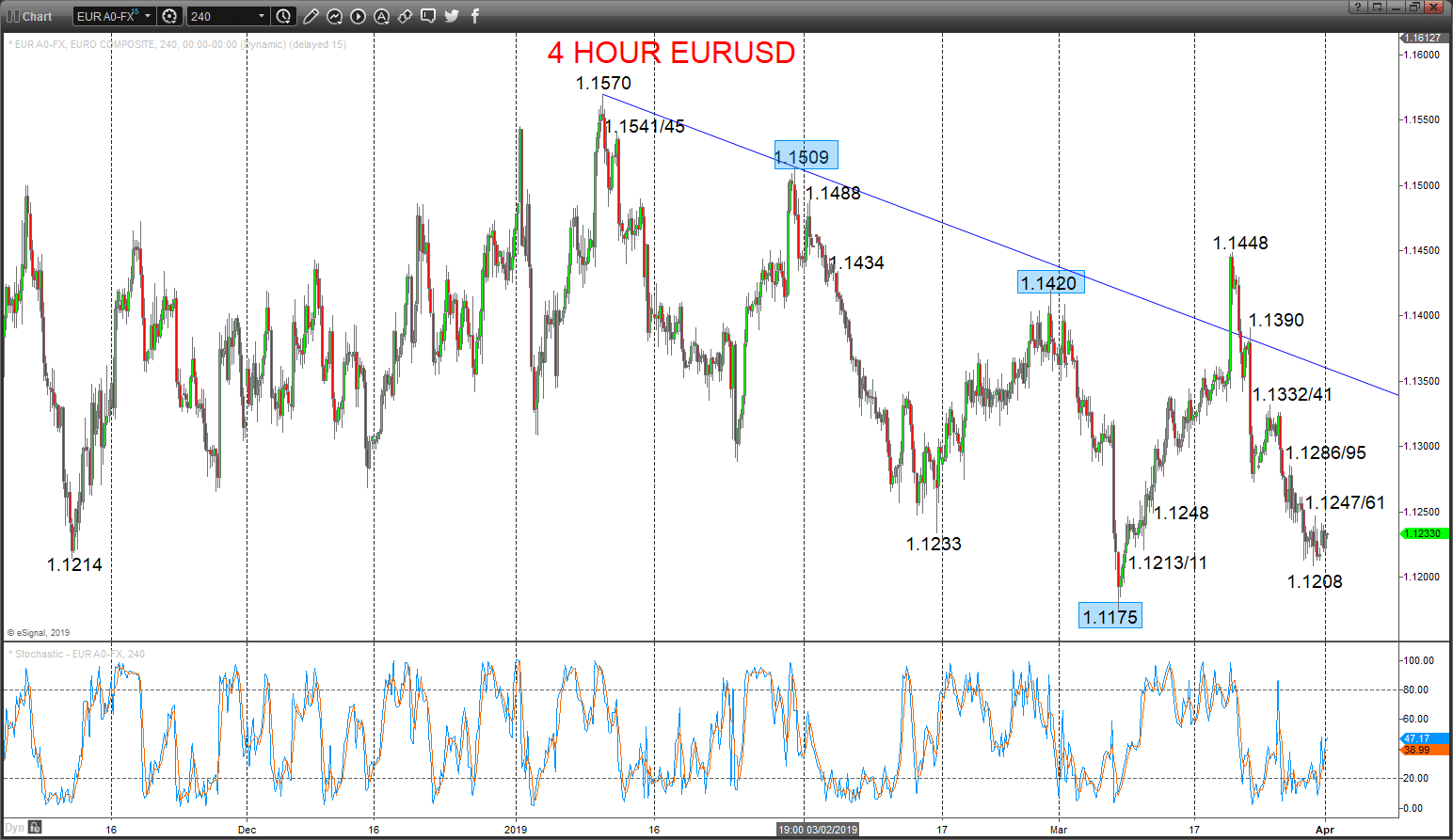 GBPUSD Risks stays lower
A very erratic tone Friday to push below 1.3004/03 supports and also rebounding and failing from below 1.3169 resistance, to leave a negative tone from Thursday's plunge (through supports at 1.3149/41), to keep risks lower into Monday.
The aggressive, mid-March advance through the late February peak at 1.3350 switched the intermediate-term outlook to bullish.
For Today:
We see a downside bias for 1.3001; break here aims for 1.2976, then towards key 1.2947.
But above 1.3089 opens risk up to the 1.3137/69 area.
 Intermediate-term Outlook – Upside Risks: We see an upside risk for 1.3473.
Higher targets would be 1.3608 and 1.4000
What Changes This? Below 1.2947 shifts the intermediate-term outlook straight to a bear theme.
Resistance and Support:
| | | | | |
| --- | --- | --- | --- | --- |
| 1.3089 | 1.3137/69* | 1.3206 | 1.3269** | 1.3311/31* |
| 1.3001 | 1.2976 | 1.2947*** | 1.2890 | 1.2830/25 |
4 Hour GBPUSD Chart