---
The US Dollar continues its recovery path into late Q3, having seen a more bullish tone through much of September, with a more hawkish shift by Fed officials and since the mid-month FOMC Meeting.
We look for this to extend into October
This has allowed for AUDUSD to produce an intermediate-term shift from bullish, to neutral and into late September to bearish below .7805 key support.
For NZDUSD, the intermediate-term outlook is negative within a range, but with bias for a bearish shift.
Read more forex market news and forecasts.
AUDUSD – Intermediate-term bear shift and downside risks
A low-level consolidation Friday below initial resistance at .78870, after Thursday's probe below key .7805 support and to further probe the uptrend line from mid-June, leaving risks lower for Monday.
Furthermore, the surrender of important .7805 support produced an intermediate-term bearish shift.
For Today:
l We see a downside bias for .7796; break here quickly aims for .7784, maybe .7753
l But above .7870 opens risk up to .7940/45, maybe .7986.
Intermediate-term Outlook – Downside Risks:
l We see a negative tone with the bearish threat to .7568, maybe towards .7331.
l Below here targets the .7155/41 area.
What Changes This? Above .7986 signals a neutral tone, only shifting positive above .8125.
4 Hour AUDUSD Chart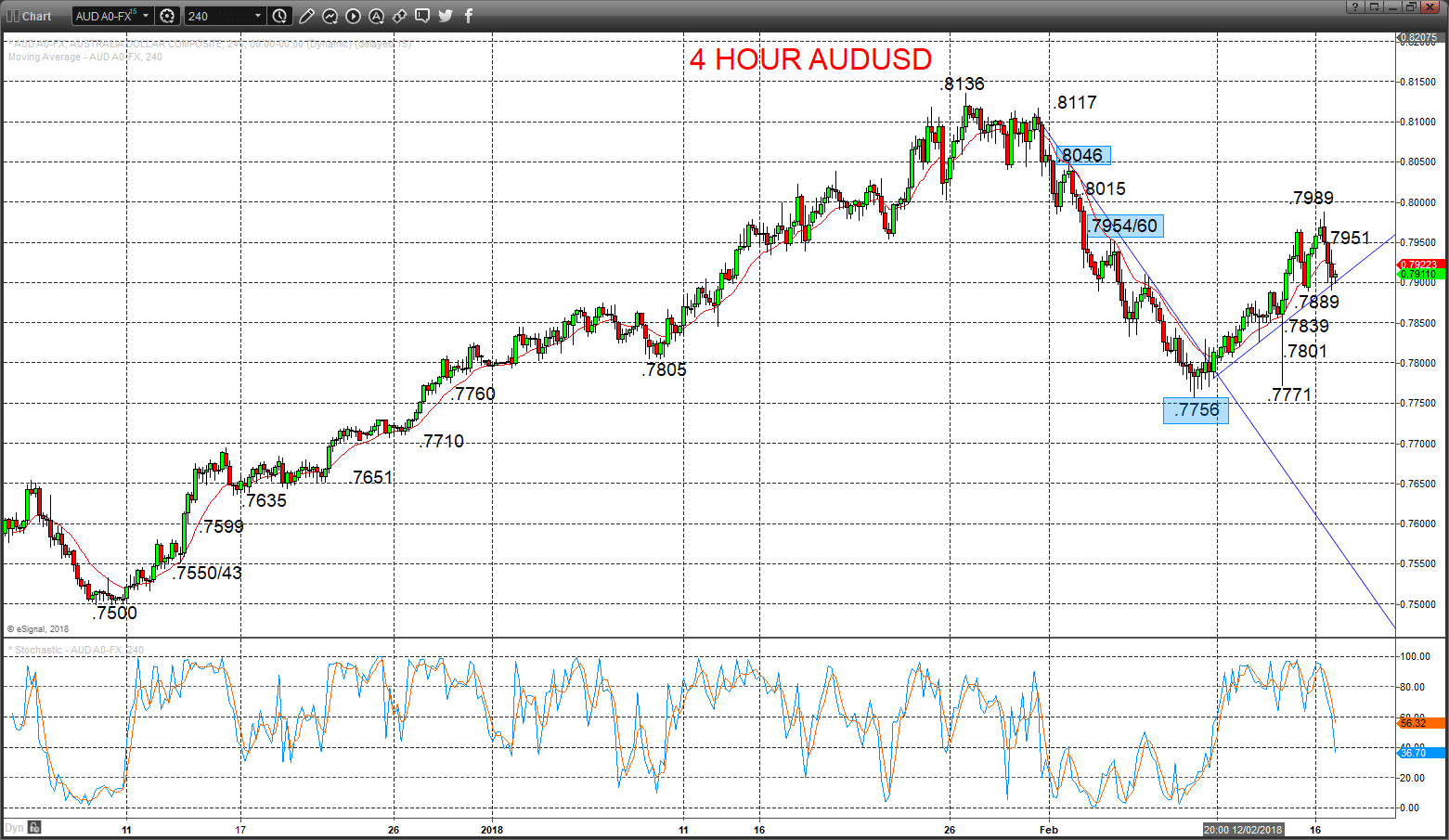 NZDUSD – Bearish threat
Despite an initial prod higher Friday, a setback from just above fIrst resistance at .7240 (from .7244) sustains negative pressures from Wednesday's push below support at .7181 and .7172 and the uptrend line from May, plugs last Monday's bearish outside pattern, keeping the threat lower this Monday .
The strong threat is for a break below .7128, which would see an intermediate-term bearish shift.
For Today:
l We see a downside bias through .7166/65; break here aims for key .7128, then maybe to .7105.
l But above .7244 opens risk up towards .7295.
Intermediate-term Range Parameters: We see the range defined by .7558 and .7128.
Range Breakout Challenge
l Upside: Above .7558 aims higher for. 7744 and .8000/45 area.
l Downside: Below .7128 sees risk lower for .7003 and .6814.
4 Hour NZDUSD Chart