The Australian Dollar and the New Zealand Dollar have maintained positive outlooks against the US currency, after initial "risk off" moves in the wake of the UK vote to leave the EU on Thursday 23rd June.
Rebounds by AUDUSD and NZDUSD over the past week (through late June and now into early July) have emphasized still bull biases. AUDUSD is positive within a broader range, whilst NZDUSD has maintained a bullish trend.
AUDUSD
A strong rebound Friday through .7470 resistance, to reinforce the Thursday rebound from the one week trend line (off of .7370), to keep a bull bias into Monday.
For Today:
We see an upside bias for .7503/10; break here aims for .7559.
But below .7419 opens risk down to .7370, maybe .7340.
Short/ Intermediate-term Range Parameters: We see the range defined by .7719 and .7141.
Range Breakout Challenge
Upside: Above .7719 aims higher for .7835/49/78 and .8000.
Downside: Below .7141 sees risk lower for .7106/.7000/.6971 and .6825.
Daily AUDUSD Chart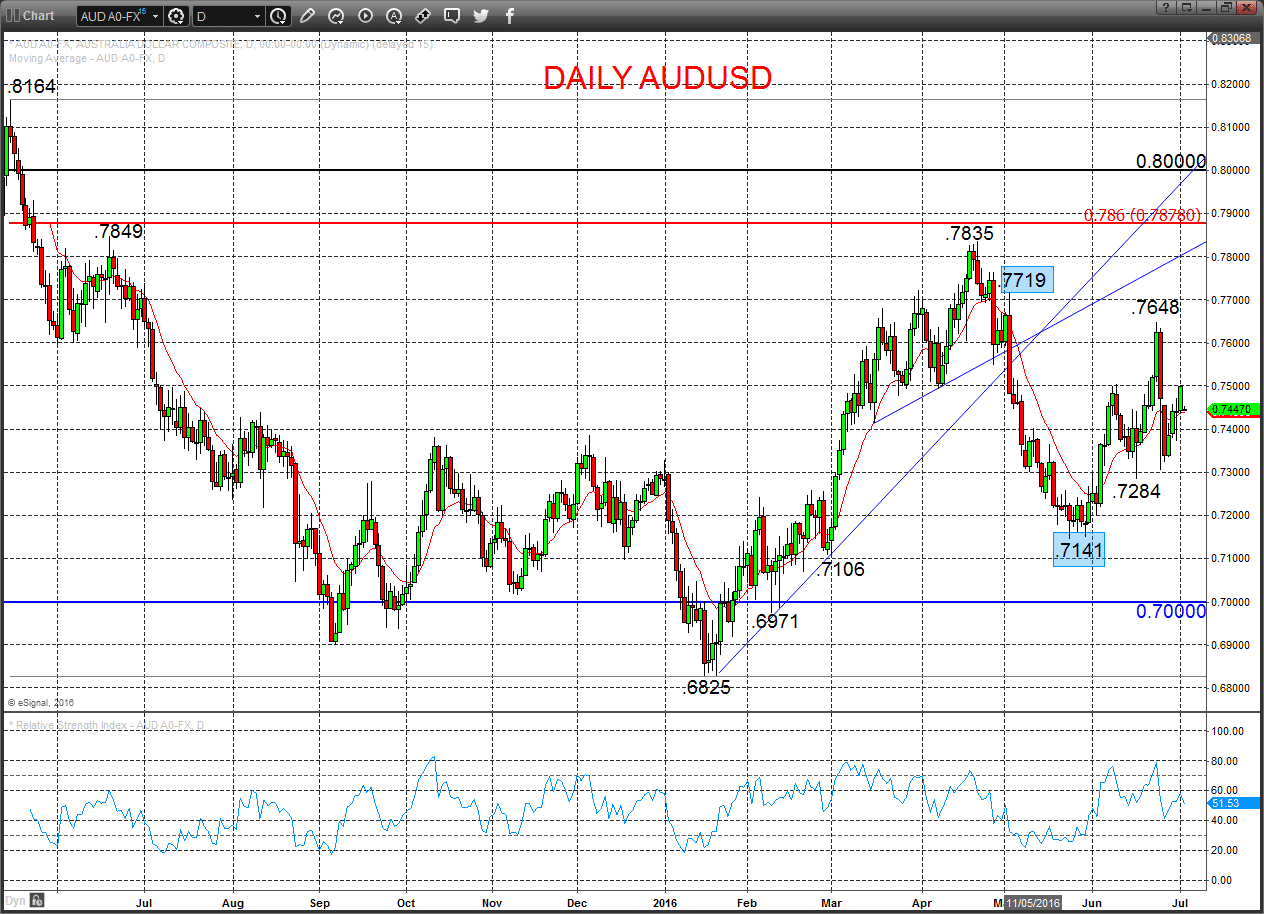 NZDUSD
Another firm rebound Friday through .7141 and .7158 to reinforce the Thursday spike lower and firm rebound from just ahead of initial .7053 support (off of .7055) and the bounce last week from ahead of key .6966/60 support (off .6977), to keep the bias higher for Monday.
For Today:
We see an upside bias for .7198; break here aims for .7207/27 and .7254/55, maybe to the .7298 cycle high.
But below .7116 aims for .7055/53 and opens risk down to .7014.
Short/ Intermediate-term Outlook – Upside Risks: A previous shift to an intermediate-term bullish tone above .7054.
We see a positive tone with the bullish threat to 7298.
Above here targets 7396/7413 and .7564.
What Changes This? Below .6960 signals a neutral tone, only shifting negative below .6676.
Daily NZDUSD Chart