AUDUSD has continued the strong theme that ended February with a rebound from key support in early March and a break above Q4 2015 resistances, to set a still more bullish tone for the Australian Dollar versus the US currency into mid-March.
In addition, although the New Zealand Dollar is displaying a less bullish outlook from a chart perspective (vs. USD), the strong NZDUSD rally to start March has set up risk of a more bullish shift in the near term.
AUDUSD
An even more significant break higher Friday (and last week from the 2016 up trend line), through key Q4 highs at .7327 and .7385, to again set an upside bias into Monday.
Short/ Intermediate-term Outlook – Upside Risks: The break above .7243 set a bull theme.
We see a positive tone with the bullish threat to .7496/99.
Above here targets .7738, .7849 and .8000.
What Changes This? Below .7106 signals a neutral tone, only shifting negative below .6971.
For Monday:
We see an upside bias through .7440 for .7496/99; break here aims for .7588, maybe towards .7653.
But below .7364 aims for .7338/18 and maybe opens risk down to .7279, which we would look to try to hold.
Daily AUDUSD Chart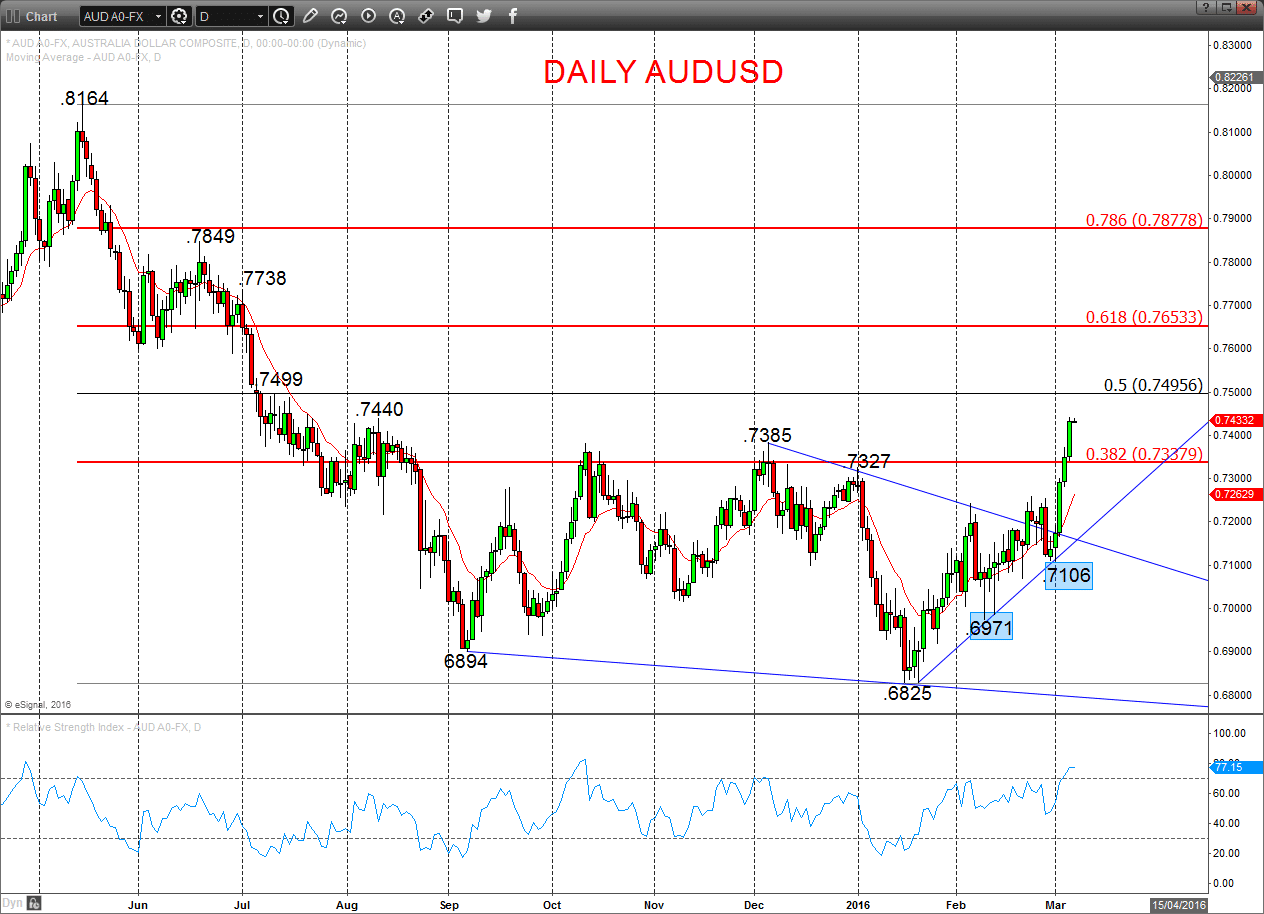 NZDUSD
A strong advance last week and again as expected Friday, through key resistance at .6775, the late February peak to maintain and reinforce the higher bias for Monday (within the broader range, but risk of a short/ intermediate-term bullish shift above .6879).
Short/ Intermediate-term Range Parameters: We see the range defined by .6879 and .6418.
The aggressive rally in early February above .6678 signalled a shift to a broader range theme.
Range Breakout Challenge
Upside: Above .6879 aims higher through .6897 for 6970, 7009/12 and .7232.
Downside: Below .6418 sees risk lower for .6343, .6232 and .6195.
For Monday:
We see an upside bias for .6843; break here aims for critical .6879, maybe .6900.
But below .6781 opens risk down to .6737, maybe towards .6712/6698.
Daily NZDUSD Chart