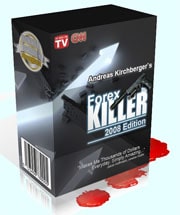 This forex fraud article contains a Forex Killer overview, questionable profitability claims, and an objective Forex Killer scam assessment. In the end you will also find links to other possible signal generator scams.
Forex Killer Overview
Forex Killer is a forex signal generator and automated forex trading software that operates as an Expert Advisor on the popular MetaTrader 4 forex trading platform. According to its vendor's website, this forex software was developed by Andreas Kirchberger, a former forex advisor at Deutsche Bank, in collaboration with a mathematics professor and a behavioral psychologist.
The Forex Killer manual trading signals can be automated by running the provided AutoFxK Expert Advisor developed by A. Alexander John within MetaTrader 4.
Questionable Vendor Profitability Claims and Issues
Vendor claims positive live-traded returns of $641,147.48 net profit on a $100,000 deposit over a trading period of 4/13/2007 to 6/01/2007 using several major currency pairs (EUR/USD, GBP/USD, EUR/JPY and USD/JPY) and 100,000 unit lot sizes that increase from 27 to 74. Relatively tight stop loss levels were indicated.
Although the above results represent a claimed annualized profitability of 4,775.89%, this represents highly-leveraged, and hence high-risk, trading that starts at around 50:1 leverage during a very short test period.
Forex Killer Scam Assessment
Is a Forex Killer scam going on here? Possibly.
Basically, the live testing results shown, if indeed accurate, were only performed over a very short time frame using high leverage. Furthermore, the time frame was so long ago at this point, that it amounts to little more than a back-test and also was not independently verified by another source.
Many forex robots are back-tested by their vendors over historical pricing data to come up with outstanding profitability claims over such a carefully-selected time period, set of currency pairs and choice of setup parameters. As a result of this optimization process, future profitability and the use of different parameters or currency pairs during live trading may generate results that can be nowhere near as good as the testing returns.
An additional risk with signal generator services is that a trader using it to trade manually might choose to take losing trades while failing to take profitable ones, thereby creating unreliable results.
Usually, people who purchase these signal generator services or robots test them by trading them using a demo or practice account during the guaranteed return period. If the results look disappointing, they then return them via Clickbank.
In general, we do not recommend that traders utilize Forex Killer or any other forex trading robots. Basically, trading forex is not a method of getting rich quick. To trade forex profitably on a consistent basis you will need to devise and improve upon your own trading system. Trusting your money to others is not a reliable way to achieve profitability in forex trading or in any other life situation.
Read about other possible signal generator scams: