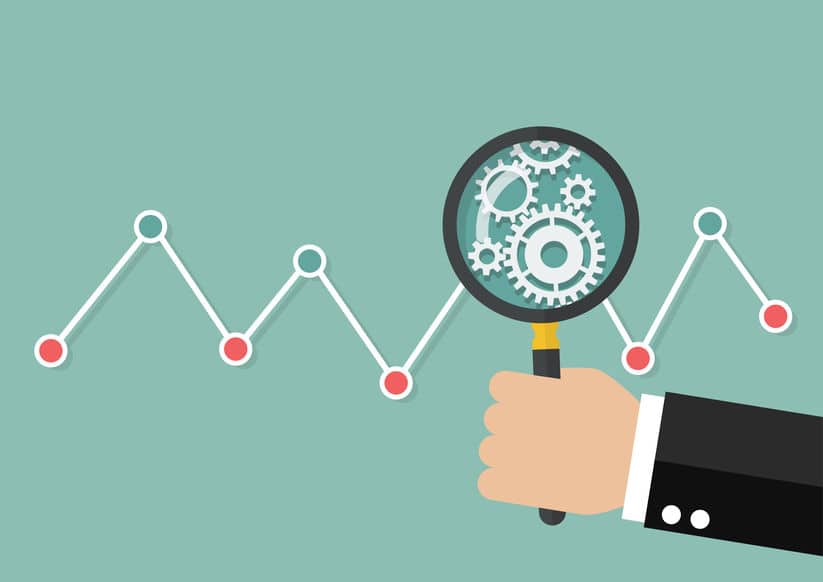 IG's roll-out of their Trade Analytics tool has now been running for long enough for the trading community to offer their view on the exciting new service.
The good news for the broker is that one of the major talking points is that clients want more of it.
Crowd Sourcing
Right from the off, IG took the somewhat brave decision to promote discussion and debate on their new product. The Beta version of Trade Analytics has now been running for months and was in the first instance shared with a select group of clients. All were invited to kick the tyres and offer input on the strengths and weaknesses.

Source: IG
This approach appears to have paid off – there's no testing like live testing, and updates and upgrades have been put in place so that the current version is now very effective.
Getting an insight into the approach and strategies of other traders also allows you to cross-reference and ask yourself if you are making the most of the platform.
What is Trade Analytics?
While all traders get very excited about their next trading opportunity, the IG analytics tool is designed to help you evaluate your past trading performance.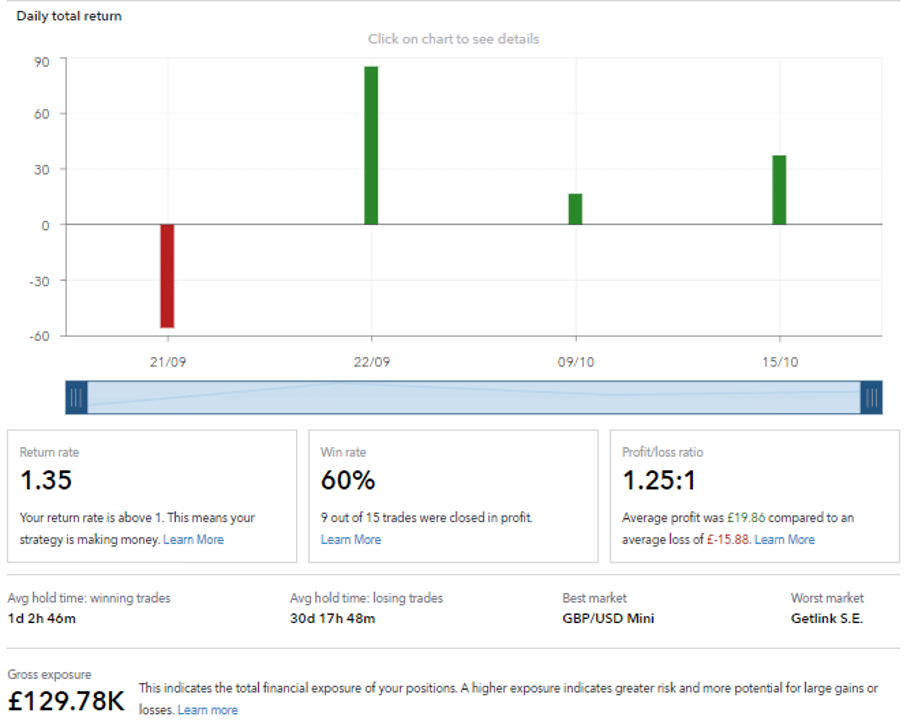 Source: IG
It's built into their site and is available in Beta version for Live accounts. It is not currently available on Demo accounts; however, as mentioned the approach has been to take on board the input from clients, so choosing Live accounts will mean that input comes from traders with real cash at stake. That will benefit all traders in the long-run.
The package allows you to:
Gain more in-depth insight into trading using, Win-Loss ratios
Identify and eliminate those expensive mistakes which are dragging down your P&L
See a breakdown of your total returns including cost attribution reports on fees and adjustments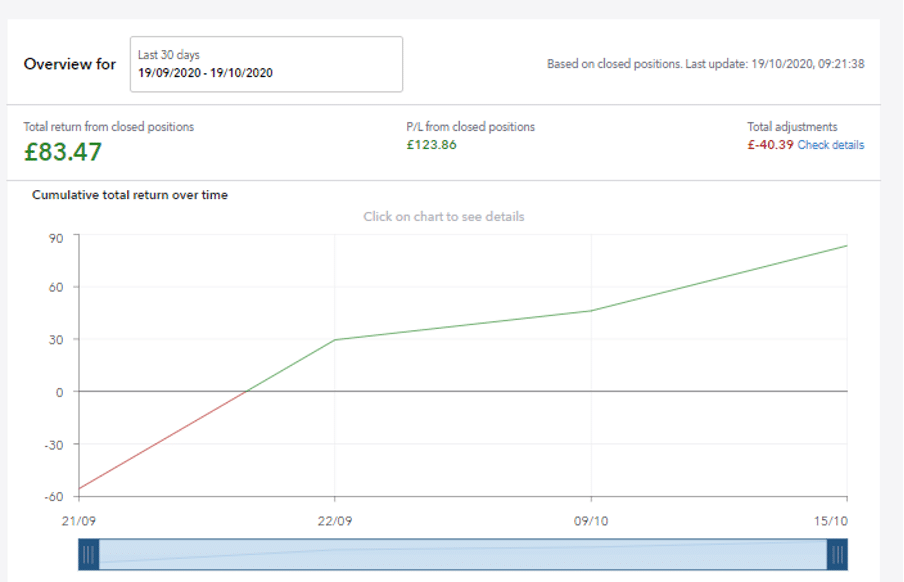 Source: IG
From a trader's point of view, it's refreshing to have all the costs set out. Financing costs can be the difference between making a profit or a loss and don't get the attention that bid-offer spreads do. It's refreshing to see a broker providing a transparent breakdown of fees charged. The Trade Analytics tool presents these costs in a handy format so that users can sift through the data and then act on their findings.
A statement from IG reads.
"We want you to keep building on your trading successes. To do that, you need data that lets you see exactly what worked well, and what didn't. That's why we'll soon be adding extra features to make your trades even more transparent, as we continue to enhance the tool."
One of the main pillars of successful trading is being self-aware. Going over your previous mistakes can be as painful as it is productive, but it does need to be done. The Trade Analytics tool just makes the job easier, faster and more thought-provoking.
Trading can be challenging and 2020's markets have been packed full of surprises. The Trade Analytics tool is an excellent tool for traders that are looking to develop and win.
Our analysis is based on a comprehensive summary of market data. We use a range of metrics with weighting given to simple and exponential moving averages and key technical indicators. Any information contained on this Website is provided as general market information for educational and entertainment purposes only, and does not constitute investment advice. The Website should not be relied upon as a substitute for extensive independent market research before making your actual trading decisions. Opinions, market data, recommendations or any other content is subject to change at any time without notice. ForexTraders will not accept liability for any loss or damage, including without limitation any loss of profit, which may arise directly or indirectly from use of or reliance on such information.
PAST PERFORMANCE IS NOT NECESSARILY INDICATIVE OF FUTURE RESULTS.