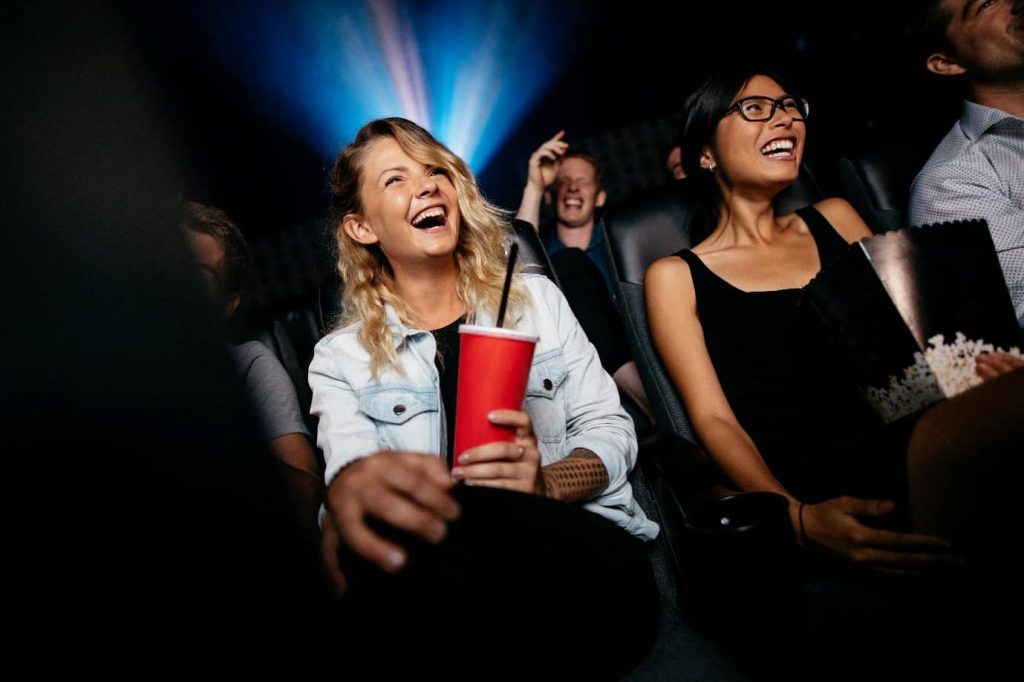 The colourful world of meme stocks has received a new lease of life. When you thought retail trader pile-ons against the big boys were played out, Reddit chatroom favourite AMC Entertainment posted a 42% one day price surge.
Trading meme stocks isn't for everyone. The eye-watering price volatility can make or lose a lot of money in a short period. But scratching beneath the surface and establishing what could be behind the move can help shed light on the broader market mood. AMC Entertainment's track record may be based around cinemas, but revolutionary changes at the company mean it offers a glimpse of a new way of doing things and an insight into markets as diverse as gold mining and NFTs.
AMC Entertainment – Daily Price Chart – March 2022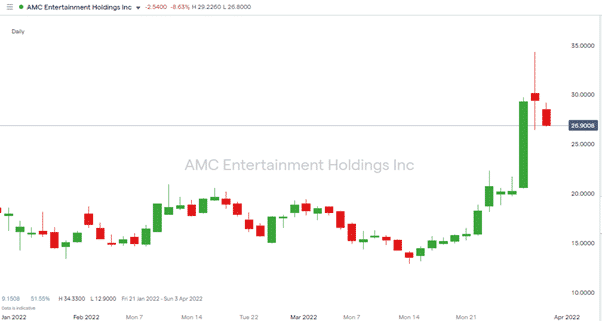 Source: IG
What's Driving AMC's Price Rise
The question raised by AMC's sudden jump in price is whether it's based on fundamentals or the underground community of small traders finding a second wind. Back in June 2021, the latter option took the price from $12 to $72 in a little more than one week. Observations about short-interest from hedge funds were shared online, and spotting an opportunity to create a short-squeeze, an army of buyers stepped in to turn the screw.
An important observation for those monitoring current events is that things might be different this time. As in, don't spend too much time scouring chat rooms for high-risk trading ideas when a commodity supercycle, defence stocks, and metals are all offering enough trading opportunities based on actual world events.
AMC's Gold Bet Pays Off
AMC Entertainment's core business of selling popcorn and showing blockbuster movies has morphed into some unorthodox business projects – and some of them look like winners.
Offbeat investment decisions can make or break management teams, but if they help the bottom line, investors are often willing to turn a blind eye. A prime example is the 22% stake in troubled gold miner Hycroft Mining Holding Corporation (NASDAQ: HYMC). AMC's stake represents just 2.6% of its unrestricted cash balance but represents a call option on precious metals. The 15m ounces of minable gold and 596m ounces of minable silver that Hycroft claims to have access to may still be in the ground, but with precious metals rallying in Q1 of 2022, the decision by AMC management paid off. The Hycroft share price has rallied by 315% since the start of 2022.
Hycroft Mining Holding Corporation – Daily Price Chart – March 2022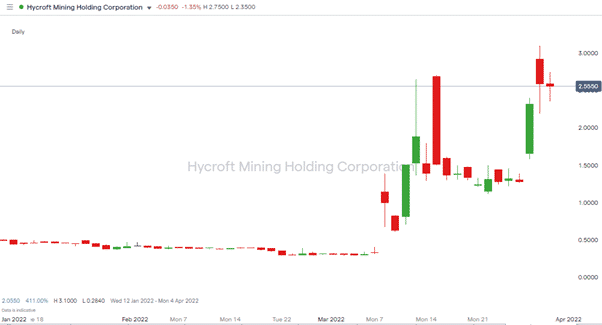 Source: IG
AMC and NFTs
If a cinema operator speculating for gold in the Nevada desert isn't unusual enough, the move by AMC into the world of NFTs is another interesting development. This project appears to be more in line with the core business model, with NFTs relating to some film releases being sold to the general public. There are risks associated with being an early adopter, but anything that diversifies AMC's revenue stream is good for the share price.
What Does AMC Share Price Strength Mean?
The latest set of financial reports points to solid fundamentals for the firm. Share price growth can be put down to gutsy calls paying off. This might not be the return of the meme but is instead a lesson on how downbeat stocks can reinvent themselves. It could be time to seek out undervalued stocks rather than Reddit soundbites.
Crowdsourcing information about scam brokers can help others avoid falling into the traps set by disreputable brokers and you can share your experiences here. If you want to know more about this particular topic or have been scammed by a fraudulent broker, you can also contact us at [email protected]