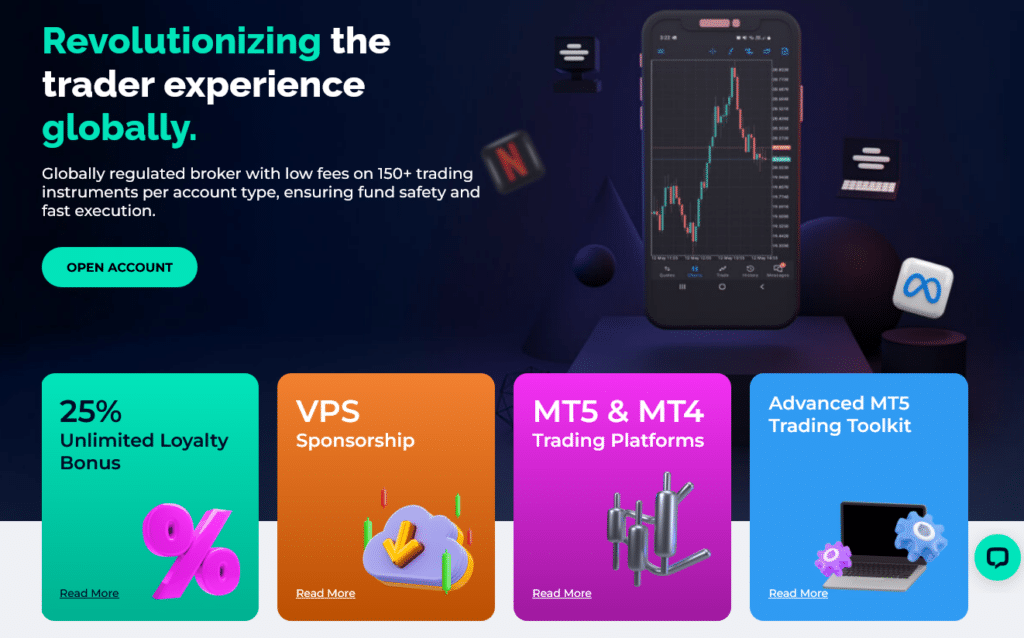 Expert's Viewpoint
FXGT.com is a regulated broker with a global client base. Since being established in 2019, it has experienced considerable growth thanks to its innovative approach. It offers a range of up-to-date tools that are designed to help its clients make the most of the opportunities presented by the financial markets.
Some of the features of the platform are unique to FXGT.com, which help it stand out from the rest of the sector. In other ways, the broker follows a tried-and-tested path. For example, it operates under licence from four different financial regulators, and the protection offered by those authorities helps our review team answer 'yes' to the question, is FXGT.com safe?
Client funds are held in segregated accounts at Tier-1 banks, which means that in the unlikely event of the broker going bust, these funds will be protected. In another nod to the importance of being a safe broker, the firm has used its 'newcomer' status to its advantage and set up an operational structure that adopts the most recent cybersecurity protocols.
The firm has gone to considerable lengths to ensure that it is set up in the best way, but its ambitions are further demonstrated by its approach to client satisfaction. It offers a range of crypto markets, many of which are not available at other brokers, and accounts can even use cryptocurrencies as a base currency. To make funding your account easier, transfers into your FXGT.com account can be made directly from a crypto exchange.
The wide range of promotions and trading bonus offers available will appeal to many. These change over time but have included a 25% Loyalty Bonus, a 100% Welcome Bonus, and a variety of forex bonuses.
All in all, the Forex Fraud team categorises FXGT.com as a safe broker, but there are many more reasons to consider this company as your route to trading the markets.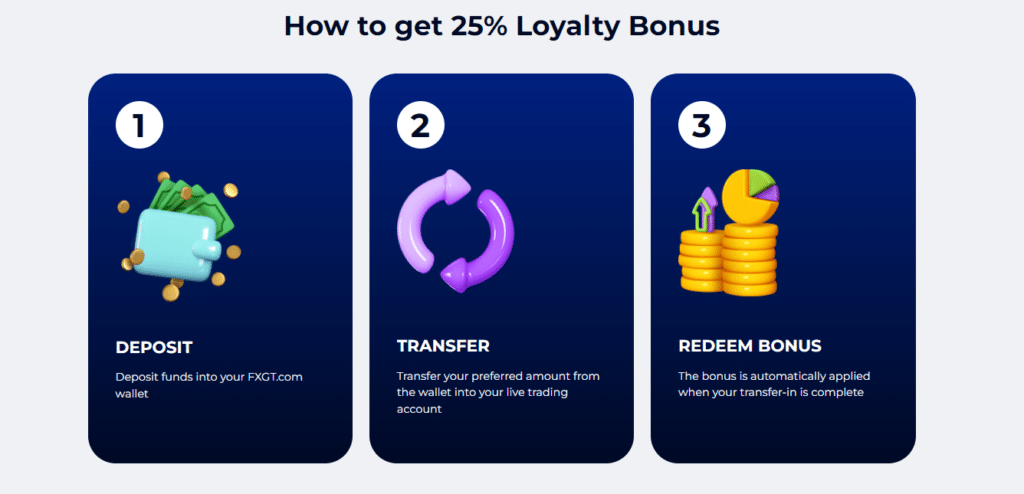 Broker Summary
FXGT.com has turned being a new entrant into the brokerage sector to its advantage by copying the best elements of what good brokers currently offer and adding a range of new, unique and innovative features. This has led to it picking up a number of industry awards, including the '2023 Broker of the Year' award from AtoZ Markets and 'Best Hybrid Broker' at the Ultimate Fintech Awards 2022.
It has registered offices set up in locations across the world, including South Africa, Europe and Vanuatu, and the firm is headquartered in the Seychelles.
FXGT.com.com is a fully regulated broker licensed by the FSA (Financial Services Authority of Seychelles), FSCA (Financial Sector Conduct Authority), VFSC (Vanuatu Financial Services Commission) along with CySEC (Cyprus Securities and Exchange Commission – * Only reserved for institutional traders). The decision regarding which regulator protects a client's trading activity is determined by their country of residence.
Security of funds is obviously the main priority, so it's a good idea to dig into the details of any broker's regulatory licensing, and the below breakdown illustrates how FXGT.com has gone about the process. As with many brokers, the trading name and that of the official legal entity or parent company can differ.
360 Degrees Markets Ltd is a registered company in Seychelles, with registration number 8421720-1. The registered address is Room 12, First Floor, Kingsgate House, Victoria, Mahe, Seychelles. It is licensed and regulated by the Seychelles Financial Services Authority (FSA) under the Securities Dealer's License Number SD019.
GT IO Markets (Pty) Ltd is a registered company in South Africa, with registration number 2015/059344/07. Its registered address is at Aurora Drive, Liberty Life Building 21, Office 125, First Floor Umhlanga, 4301 Kwa-Zulu Natal South Africa and its physical address is at Suite 12, Katherine & West, 114 West Street, Sandton, South Africa. GT IO Markets (Pty) Ltd is an authorised FSP with FSP Number 48896 and is regulated by the Financial Sector Conduct Authority.
GT Global Markets Ltd is a registered company in Vanuatu licensed and regulated by the Vanuatu Financial Services Commission (VFSC) under the Principal's License Number 700601 and has its registered address at Law Partners House, Kumul Highway, Port Vila, Vanuatu. GT Global Markets Ltd offers financial and investment services exclusively to eligible/institutional counterparties and is not aiming to service any retail clients.
Institutional clients also have the option of signing up to the CySEC-regulated entity. (* Only reserved for institutional traders).
TEC International (Cyprus) Ltd is a registered company in Cyprus that offers its financial and investment services exclusively to eligible (institutional) counterparties. It has registration number HE 389575 and its registered address is at Aiolou & Panagioti Diomidous, 9 Katholiki, 3020, Limassol, Cyprus. It is licensed and regulated by the Cyprus Securities and Exchange Commission (CySEC – * Only reserved for institutional traders) under license number 382/20, operating in accordance with the Markets in Financial Instruments Directive (MiFID II).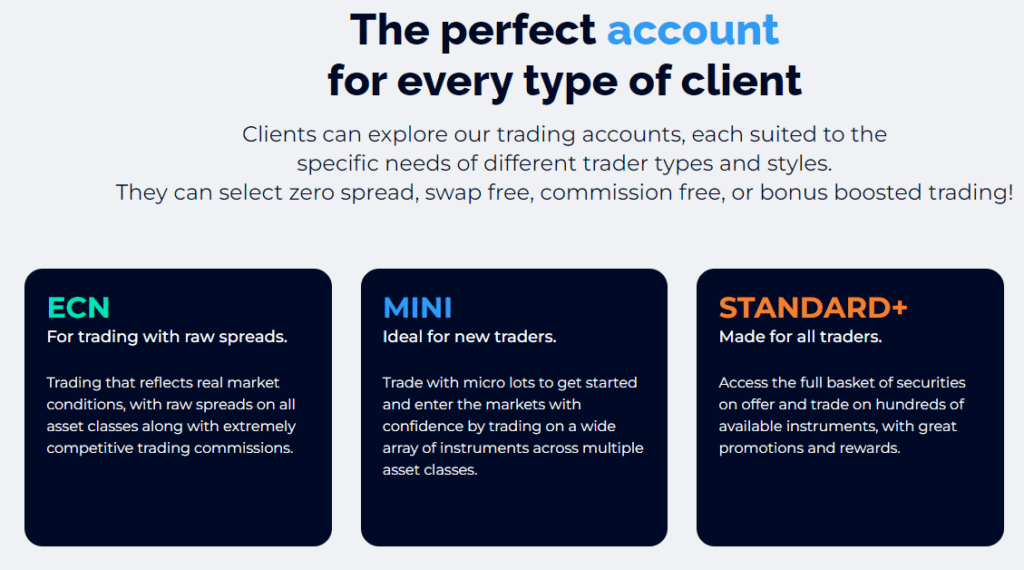 Broker Introduction
After establishing that FXGT.com is a safe broker, it's worth considering some of the other attractive features of the broker's setup. One way of doing this is to take a few seconds to set up a Demo account and try out trading using FXGT.com in a risk-free environment. This hands-on approach will illustrate how FXGT.com has in many ways taken trading to a new level.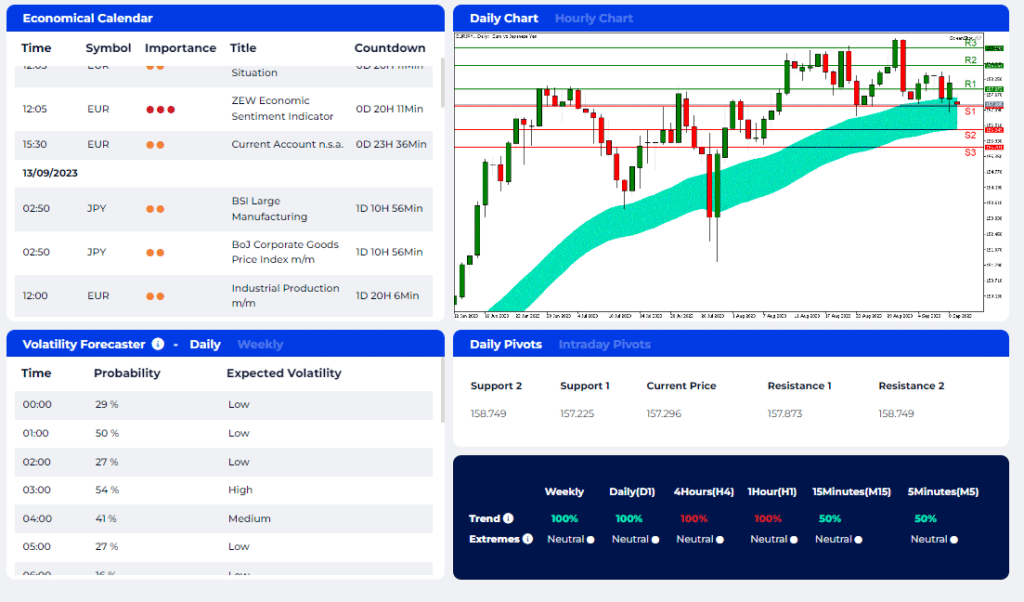 The Technical Analysis and Trader Insights monitors are highlights of the package as they use market data to pinpoint possible trade entry and exit points. They can be applied to a range of markets, and it's possible to easily diversify your investment approach thanks to FXGT.com offering markets in forex, stocks, indices, futures, options, commodities, cryptocurrencies, crypto indices and NFTs.
Trading costs are kept to a minimum, bid-offer spreads are tight, and leverage terms of up to 1:1000 will appeal to those looking to scale up on their risk-return.
One of the features of the FXGT.com offering that will be attractive to many is the crypto-friendly approach taken by the broker. It is possible to trade an exceptionally wide range of cryptocurrencies on very competitive terms – during our FXGT.com review, the spread on BTC was 4.35, and on ETH it was 0.47 – which is easily within the range expected from a good broker. You can also trade Synthetic Crypto Pairs, which allow you to short sell as well as go long, and use leverage to increase overall exposure. Whether you are looking to trade Bitcoin, Ethereum, Solano, or other altcoins and meme-coins, the platform is available to trade on a 24/7 basis.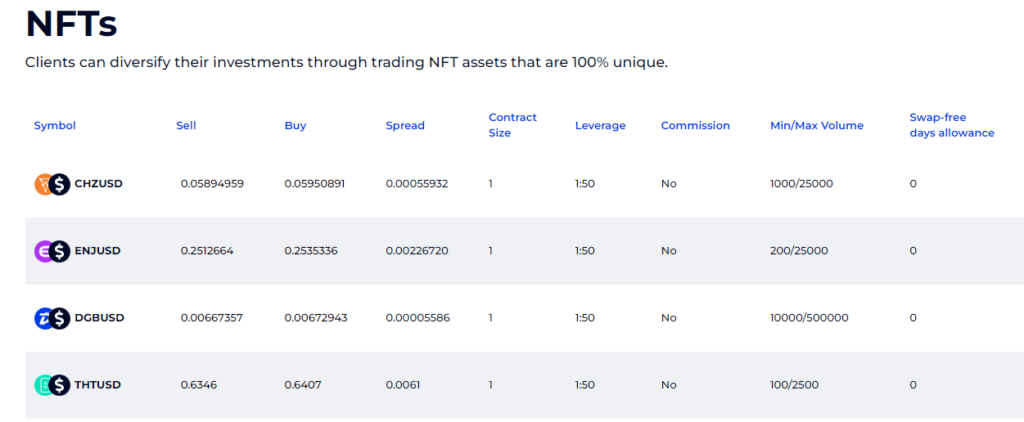 The Synthetic Crypto Pairs instruments allow you to trade price movements in crypto and traditional markets without having to own the underlying asset. There are also De-Fi markets to trade, including LNKUSD, ZRXUSD and RENUSD, and the NFT instruments and GTi12 crypto index, which are unique to FXGT.com, offer ways of gaining exposure to cutting-edge areas of the digital investment sector.
The final feature that cements FXGT.com as one of the best brokers for fans of crypto is that it is possible to fund your account using cryptocurrencies, and to also set your account base currency in BTC, ETH, USDT, ADA and XRP, as well as fiat currencies such as EUR and USD. This means that if you are funding your account using cryptocurrencies, it is possible to avoid currency conversion costs.
Spreads & Leverage
FXGT.com offers clients the opportunity to trade using bid-offer spreads, which are better than the average for the sector. The exact T&Cs vary across the different accounts, but during our testing, the spreads in GBPUSD and EURUSD on the PRO account were an impressively tight 0.00006. The ECN account goes one step further and has spreads as tight as 0.00 pips in some major forex pairs. However, unlike the other three accounts, there are commissions charged per trade when using this account.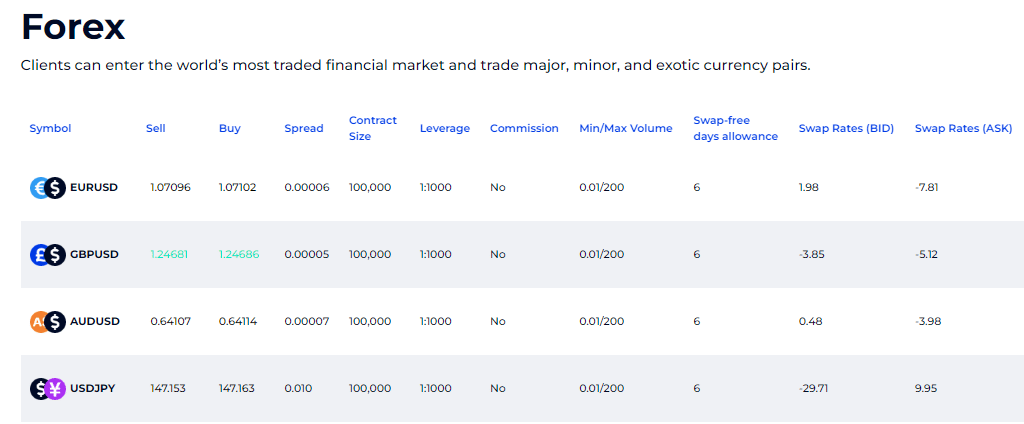 Those looking to run higher-risk strategies will note that leverage terms at FXGT.com go up to 1:1000. Because crypto trading is done using synthetic instruments, the option to increase net exposure extends to the available cryptoasset markets as well as to markets in 'traditional' assets.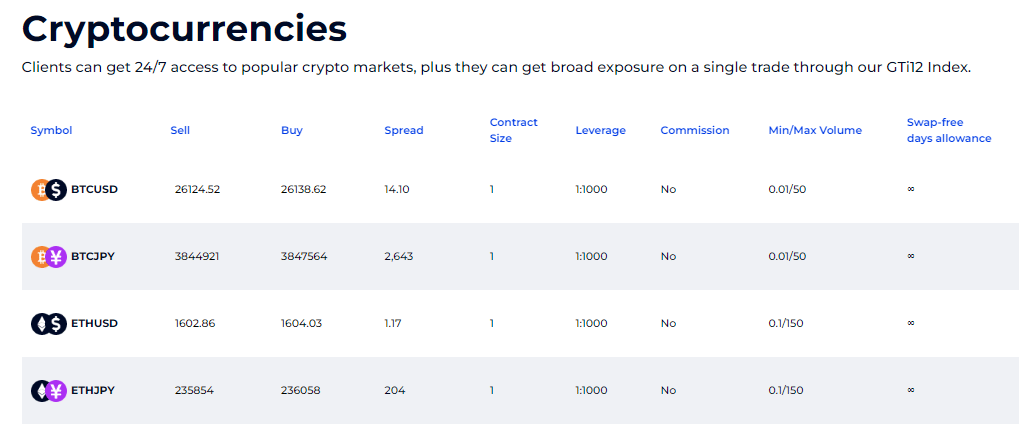 Platforms & Tools
The platforms available to use at FXGT.com are MetaTrader 4 (MT4) and MetaTrader 5 (MT5). These are highly regarded in the trading community and are the most widely used retail trading platforms in the world. They are robust and reliable and are packed with an extensive range of powerful software tools to help you pinpoint trading opportunities. You can download MetaTrader to your device or access the MT4 and MT5 WebTrader version of the platform using any internet browser.
The MT4 platform comes with 30 trading indicators and the MT5 version has 38. MT5 also allows you to build more pending orders – six as opposed to four. Other additional features of the MT5 platform offered by FXGT.com include a forex calendar, the ability to 'net' positions, a 'Market Depth' monitor and back-testing programs.


Many traders will still opt to use MT4. It has a longer track record and is ideal for those looking to automate their trading or use the ideas of others via the Expert Advisors service. Regardless of which MetaTrader platform you use, both do a good job of ensuring that despite all tools on offer, the trading dashboard has an uncluttered feel. Trade execution can be set to 'one-click', and open positions are reported in the Portfolio section of the platform, where it is possible to track P&L moves.
If you are looking to trade on the go, the good news is that both the MT4 and MT5 platforms are available in app format. You can download MT4 and MT5 to Android and iOS devices via Google Play or the App Store, or directly from a link that can be found on the FXGT.com site.

Nearly all of the impressive features of the desktop version of the MetaTrader platforms convert to the smaller screen. You can also use the app to carry out account administration, or test new strategies using a Demo account.
Commissions & Fees
There are four different accounts to choose from when setting up to trade at FXGT.com. Each one is designed to appeal to a different type of trader. However, if you are considering a variety of strategies, the good news is that it is possible to set up more than one account.
The fees and commissions across all accounts are set at reasonable levels. The PRO, Mini and Standard+ accounts do not charge any commissions or fees on trades. The ECN account does charge fees on trades, but the $6 per round turn in currency markets, and $5 per round turn in precious metals, are in line with the peer group, and ECN trading does come with tighter trading spreads. Commissions charged on crypto trades start at 0.1% of deal value.
In line with standard market practice, overnight financing fees are applied on leveraged positions. These vary in size according to which account you use and which market you are trading. There is also the option of selecting your FXGT.com account for swap-free forex trading, which is good if you want a Sharia-compliant way to trade but would again alter the exact rates at which financing fees are set.

Charges on deposits and withdrawals are also competitive. FXGT.com doesn't apply fees on transfers involving debit/credit cards or crypto, though it is worth checking if any third-party payment agents might do so. Bank transfers do incur a charge from the broker, though this is dependent on the quantity of funds being wired.
Education
The innovative approach of FXGT.com is probably best demonstrated by its approach to educational and research materials. Its library of 'traditional' research notes is limited to a range of eBooks, but there is a selection of hands-on tools that help you learn more about how the markets work.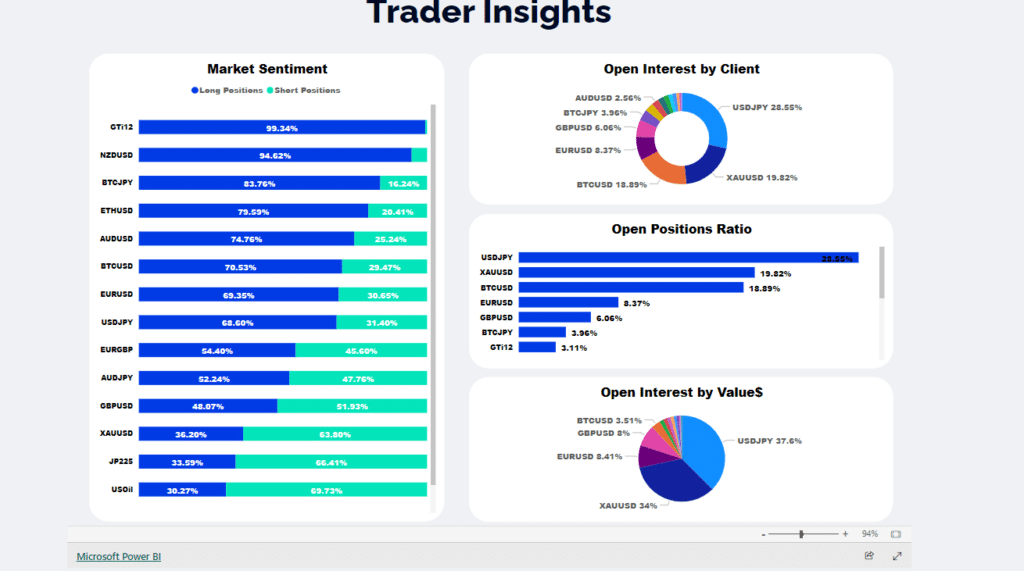 The previously mentioned Technical Analysis monitor makes learning about the markets a more interactive experience, and the Trader Insights monitor helps you develop the skill of understanding how market sentiment can trigger price moves. Queries about how the platform or markets work are best explored using the FAQs section or the Live Chat service.
Customer Service
The FXGT.com customer support team can be contacted on a 24/7 basis. This round-the-clock availability is matched by fast response times when using the Live Chat service, with the operators we contacted during our testing all being knowledgeable and professional. The lack of a telephone support option might be an issue for some, but it is possible to use emails when asking questions that are more detailed and less time-sensitive in nature.

The support team members speak a variety of languages, and the registration for a new account can be done in English. As the firm has a strong position in the Southeast Asia market, it is possible to open an account using eight different languages from that region.
Final Thoughts
FXGT.com has gone to considerable lengths to ensure that it is set up in the best possible way. This means that it can be considered a safe broker. The company's ambitions are further demonstrated by the approach taken in terms of ensuring that its clients enjoy a high-quality trading experience. There is a range of features that are unique to the broker, and its approach to cryptoassets is groundbreaking.
The wide range of bonus offers and competitions that are available are also a very nice-to-have feature. All in all, there are very few reasons to not consider using FXGT.com to trade the markets, and plenty of reasons why it could be the best-fit broker for you.
Broker Details
The registered head office of FXGT.com.com is held under the name of 360 Degrees Markets Ltd, which is a registered company in Seychelles, with registration number 8421720-1. Its registered address is Room 12, First Floor, Kingsgate House, Victoria, Mahe, Seychelles. The firm also has offices in South Africa, Europe and Vanuatu.
Contacts
The Live Chat function is the best method to use if you want to contact representatives of FXGT.com. It can be found in the bottom right-hand corner of every screen. An alternative option is to email the broker or submit a message into the in-built messaging system, which can be found in the Contact Us section of the main site.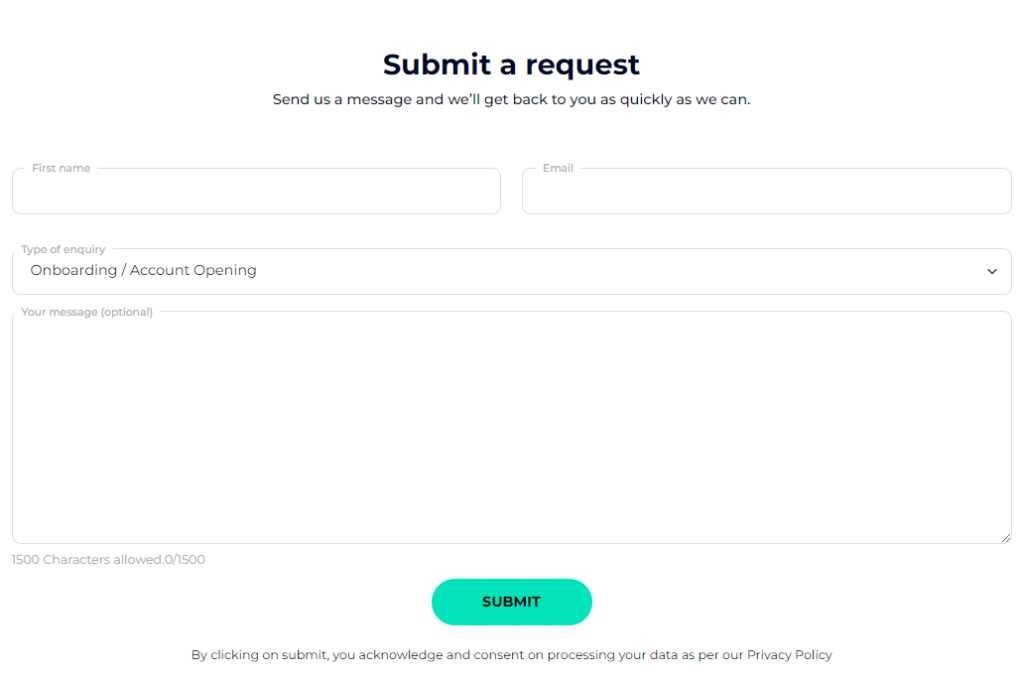 FAQs
How can I open an account with FXGT.com?
The link to open an account with FXGT.com is found in the top right-hand corner of the broker's homepage. The entire onboarding process is carried out online and takes less than five minutes to complete. It is during this time that you will need to select which trading platform and account type you would like to set up. However, there is some flexibility, with there being an option to reconfigure your profile at a later date.
Does FXGT.com offer an Islamic account?
Yes, FXGT.com offers swap-free accounts that are Sharia compliant. Choosing this option is done during the account-opening process or after your account has been set up, when a swap-free account can be created by simply making a request to the broker's customer support team.
How do I withdraw money from FXGT.com?
There are four easy steps to follow to withdraw funds from your FXGT.com account. The broker is bound by regulatory conditions that stipulate that you can only withdraw funds once your account profile is complete and that you meet all KYC and Payment Verification requirements. Withdrawals cannot be processed until this has been done. The four steps to withdraw funds are:
Click on the 'Withdraw' button from the 'Actions' drop-down menu in the Client Portal dashboard.
Select the currency you want to use to withdraw.
Choose the withdrawal method.
Set the amount you want to withdraw.
Please be advised that certain products and/or multiplier levels may not be available for traders from EEA countries due to legal restrictions.
---
---