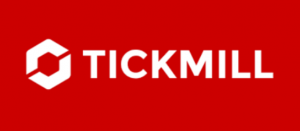 Tickmill continues to grow from strength to strength by offering traders just what they need to be successful in the markets.
This secure framework acts as a base for some of lowest cost trading in the market with trade execution backed up by some very impressive behind the scenes infrastructure designed to offer the best access to the financial markets.
Read the full review of Tickmill
Expert Summary
Even though it is a relative newcomer in the world of trading, Coinlife had rapidly earned a good reputation due to its brand having secured the advantage of offering a broad range of crypto instruments. It covers not just the popular tokens like Bitcoin, Ether, and XRP, but also, Neo, Cardano, IOTA, OMG, Tron, and tens of other more 'exotic' altcoins.
Coinlife is a leading provider of crypto trading services. It delivers facilities for getting involved in one of the fast-growing markets in the world with its reduced trading costs and efficient trading tools.
The company targets retail traders from all around the world, beginners and experienced alike. Anyone wanting to access the world of cryptocurrency to benefit from both rising and falling markets, without holding the underlying instruments is catered for. Trading is conducted via a standard account type available for all customers, integrating all trading functionalities available with this brand.
WebTrader, the proprietary platform of Coinlife creates a connection with the cryptocurrency market and is the only trading software solution currently available. Although platforms like MetaTrader 4 or MetaTrader 5 are not available, it is essential to note that WebTrader has multiple functionalities, and thanks to its versatility, can be used on any type of device, including smartphones and tablets.
Coinlife keeps a close eye on rapid market developments. It also constantly upgrades its trading offer with new tokens and innovative trading features with the potential to enhance the overall trading experience for its clients.
Via KYC/AML compliance, the Coinlife Privacy Policy, and the security mechanisms in place, the platform has the much-needed safety ecosystem that lets traders focus on the markets without having security concerns.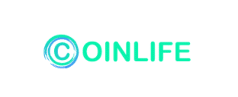 Coinlife Trading Account
According to Coinlife's vision of democratising access to the crypto market, all customers must benefit from the same trading features. As a result, all clients have a standard account and the same benefits regardless of the initial deposit made or their financial status.
The sign-up process has been designed for ease of use. Traders just have to provide their first and last name, email, phone number, agree with the terms & conditions and confirm they are over 18 years of age.
The trading account will be opened immediately. Once on the dashboard, you can explore the WebTrader, make a quick deposit using credit/debit card or phone payments, add new personal information, upload identification documents, or adjust account security parameters. Keep in mind the Coinlife website is written in both English and German, while the WebTrader interface is available in four different languages, thereby meeting the demands of traders all around the world.
Trading Software
Considering the trading platform is where most of the activity will take place, traders pay close attention to the matter. Coinlife seemed fully aware of that requirement as it built its version of WebTrader, its custom-made solution for optimal trading.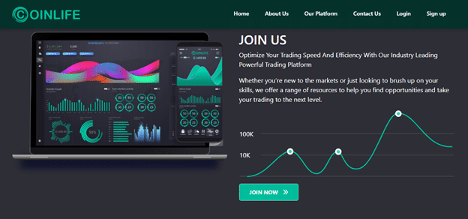 Simple, fast, and highly customisable, it is an optimal tool to use to become involved with cryptocurrencies. There are reliable trading features like TradingView charts, market news, asset alerts, different skins, and a create favourites list facility.
This is a platform compatible with any type of device or operating system, including Android and iOS, making it easy for customers to keep track of their account whenever they wish.
For those unable to stay in front of the charts all day, this is an important feature, considering the markets can take an unexpected turn at any point.
Deposits and Withdrawals
Funding an account with Coinlife is convenient for all customers. The company accepts deposits using credit/debit card, wire transfer, or cryptocurrency.
It is important to note that clients can also make a deposit by contacting a representative by phone to process the transaction.
The same methods for making deposits are used for withdrawals. However, a withdrawal request can only be processed once the client passes the verification procedure. To do so, he/she must provide a copy/scanned image of an ID, proof of address, and payment proof (in case the account was funded using a credit card).
Coinlife reserves the right to take several business days to process a withdrawal request. That happens because each request has to be processed manually by a representative.
Customer Support
To solve a technical issue or to find out more about the services provided by Coinlife, you can use an email address, request a call-back, or get in touch with a representative using the live chat feature available on the website. The platform has an edge in terms of customer support because the service is available 24/6.
Safety with Coinlife
Coinlife integrates some of the latest trading technologies to make sure that clients' funds and personal data are kept safe at all times. Additionally, the Privacy Policy sets out clear rules on what personal information is stored by the company and for what purpose. You can find out more about how Coinlife manages client data by visiting its official website.

This broker is fully aware of online threats. Since customers can be vulnerable to phishing attacks, hacks, or scams, it enables customers to set up strong passwords and multiple security measures to ensure that nobody can gain unauthorised access.
Coinlife Conclusion
Coinlife can be an appropriate choice for traders all around the world that want to unleash the full potential of cryptocurrency trading. As previously mentioned, the brand provides multiple trading tools and features to help customers deal with the challenges arising from the crypto sphere. All clients are treated equally at Coinlife, and that's a detail worth highlighting.
Everybody should be able to access the crypto market and to see how the innovation brought by the blockchain technology can reshape the financial industry. Focusing on cryptocurrency instruments puts Coinlife in an excellent position to make a significant contribution in that respect. At the same time, the brand needs to keep pace with the market developments and to make the necessary adjustments to its services whenever required.
Please be advised that certain products and/or multiplier levels may not be available for traders from EEA countries due to legal restrictions.
---
---